In this episode of More Than Good Food, we explore how the family dinner changed when a young woman decided to become a vegetarian and then a vegan. The first thing her mom said was – yes, and then started to dig into the research to keep her daughter healthy.
Please join me at my dinning table with Tessa and her daughter Gwen.
Her recipe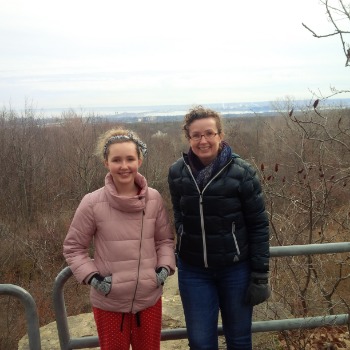 Cinnamon Roasted Pumpkin Soup recipe (yield: 6 servings):
1 small pie pumpkin
3 cups vegetable broth
1 small red onion, diced
cinnamon
olive oil
fresh basil or thyme
salt & pepper, to taste
Cut the pumpkin in half, scoop out and reserve seeds, and brush olive oil onto all the cut surfaces. Sprinkle with cinnamon and black pepper. Roast in oven at 400 F until soft and edges are starting to brown, about 40-50 minutes.
In a stock pot, fry diced onion in olive oil until caramelized. Add a couple of pinches of chopped fresh basil/thyme, and salt and pepper to taste.
Add broth and bring to a simmer.
When pumpkin is done roasting, scoop out flesh and add to blender along with broth. Pulse to blend until smooth. Add more broth if needed and return to pot.
Wash pumpkin seeds, straining out pumpkin strands, toss in olive oil and spread in a single layer on a cookie sheet. Sprinkle with either salt and pepper, or if you're feeling adventurous, cinnamon and a teaspoon of sugar.
Roast seeds in oven at 425 F, checking often and stirring every 4 minutes until lightly browned, approximately 8-12 minutes. Garnish soup with warm roasted seeds.
Nutrition facts/serving: 92 Kcal, 6g fat, 3.5g protein, 100% of daily Vitamin A